Specialists in Automatic Machining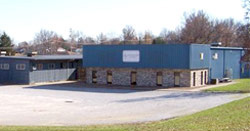 Established in 1946, Economy Products is a modern factory equipped with the most up-to-date CNC single-spindle and multi-spindle automatic screw machines, managed by an experienced staff which is alert to the latest improvements in methods and machinery. Emphasis is placed on low cost production of parts in small, medium, and large volume runs as well as on maintaining a uniformly high degree of dimensional accuracy. The quality level obtained is in line with the highest standards found anywhere.
Skilled machinists at Economy Products are mass producing parts that are held to close tolerances. Materials are machined from brass, steel and aluminium to high-performance alloys, and up to 2" in diameter. For secondary operations that cannot conveniently be machined on automatics, a complete range of auxiliary machine tools facilitate the production of parts that conform fully with the most demanding specifications.
To download our application for employment, click here.
Completed applications may be scanned and emailed to: HR.EconomyProducts@Outlook.com